News
CloseAlert Connects: the 1st edition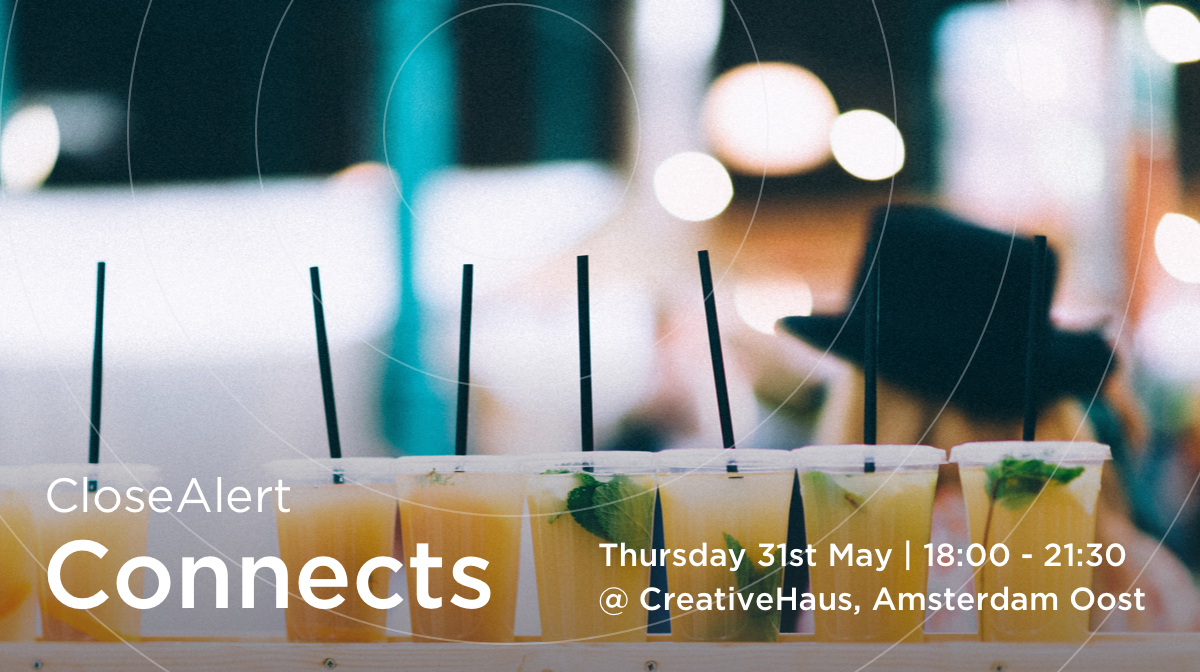 At CloseAlert, we're proud of our clients. We love to give back and that's why we're organizing an inspiring evening for, thanks to, and in collaboration with you. Please be very welcome at the first edition of CloseAlert Connects!
Why you should join? Because your industry peers will be there!
We often get questions such as: "Can you share some best practices with us?" or "How are other businesses using CloseAlert?" Sound familiar? We are certain you will find your answers (and much more) during CloseAlert Connects.
Program
It's all in the name; central to this evening is the ability to connect. Our commerce and development teams want to speak with you and hear first hand what's on your mind. We also want you to be able to connect with like-minded professionals and offer ample opportunity for this! Lastly, we want you to be able to connect with the CloseAlert platform! Therefore we've invited two of our clients to present about their experience with CloseAlert.
First one on stage is Otravo. They started using CloseAlert for one of their labels and have now extended the usage to every brand they own (seven in total). They will talk about how they started off with CloseAlert, how CloseAlert has helped optimizing their campaigns and how they are now leveraging their insights and experience to increase visibility and usability across the company globally (e.g. through linking data with their CRM).
Are you wondering how to increase CloseAlert's visibility internally or are you wondering how the feedback can add value in your CRM? You'll want to hear from the guys of Otravo!
Second on stage is Paula's Choice. They will be talking about the journey they've gone through with CloseAlert. They will explain how the marketing team was able to collaborate with the customer care team on CloseAlert. This really results in an awesome solution enabling them to close the loop on customer enquiries.
Are you struggling to get your customer care team on-board or are you part of the customer care team and struggling with closing the loop? Don't miss this presentation and have your questions ready!
When:
Thursday evening, 31st of May 2018
Timetable:
18.00 - 18.45: Doors open
18.45 - 19.05: Presentation by Yori Högemann, cofounder of CloseAlert, on trends in the customer experience landscape and a sneak peek into CloseAlert's roadmap
19.05 - 19.25: Otravo: with Jochem Veenstra - Channel Manager
19.25 - 19.40: Blah blah blah :)
19.40 - 20.00: Paula's Choice: with Leonie Jonker - E-mail marketeer and Retention manager
20.00 - 21.30: Talks, drinks and snacks
Where:
CreativeHaus, Commelinstraat 248, Amsterdam Oost.
Easily accessible by train (Muiderpoort station) and tram (7 and 9, 1e van Swindenstraat, or 14, Pontanusstraat).
Will you be visiting Emerce's Digital Marketing Live that day? Jump on tram 9 or 14 on Dam Square.
Does this message excite you to come? Then please RSVP by sending an email to djoeke@closealert.com, mentioning your company and who you want to bring. (Please note: presentations at the event will be in Dutch.)