Product improvements
Set up your first feedback form in 5 easy steps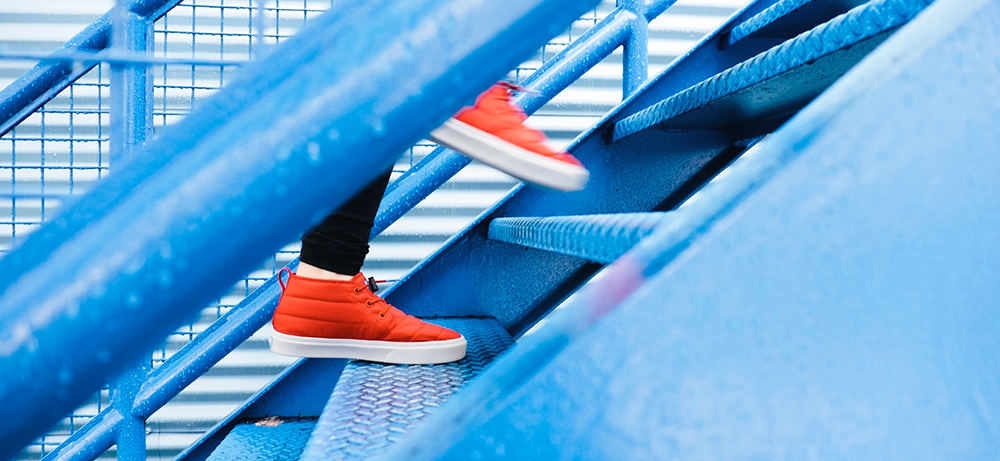 Setting up your feedback forms in CloseAlert is easy. With this guide you can start collecting valuable feedback in five easy steps today.
Step 1 - Create your feedback form
Let the fun begin! Log into your CloseAlert account, navigate to "Forms" in the menu and click on "Create new form".
Give your feedback form a clear and descriptive name, so it is easy for you to find it, especially after you have created several forms. Try "Newsletter feedback form" for instance. You can always change the name of your forms afterwards.
Step 2 - Edit your form question and answers
We've created three different question types for you to start with: Sentiment, Multiple Choice and Comment. Each type has its own type of answer(s). Let's stick with the default Sentiment option for now. It is already selected for you, which you can see right of the icon of the trash can.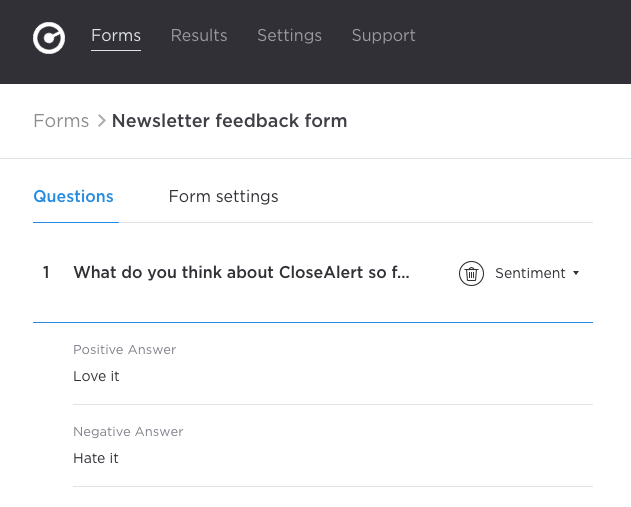 Collecting feedback starts with asking a question. We'll now set up the question and answers that will be visible in your HTML emails.
Change the default question from "En? Wat vind je van deze e-mail?" to "What do you think about CloseAlert so far?".
Now change 'Positive answer' to "Love it!" and 'Negative answer' to "Hate it".
To let people explain why they love or hate us, we'll add a sub question per answer. Click on the little icon with the lines and two dots at the right of your Positive answer and copy/paste: "Please tell us why you love us:"
Do the same with your Negative answer and copy/paste: "Ouch! What should we do to make you love us?"
Happy with your question and answers? Click bottom right on "Save".
Tip: You can add extra questions to your feedback form. You'll see a grayed out '2' with "Type to add a question" behind it, just below your first question. Add as many questions as you like.
Step 3 - Edit your form's settings and test it
After people click on an answer in your emails they'll land on your feedback form. Click on 'Form settings' to open the section where you can edit all aspects of your form.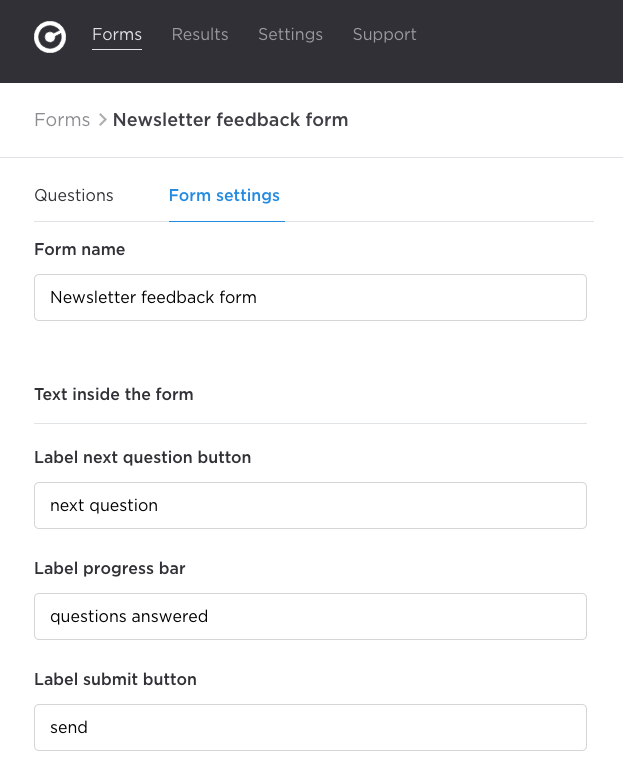 Form name

If you have second thoughts about your form's name, change it here.
Label next question button - sending message

These options are self-explanatory. Go through them and change text where you find it necessary.
Would you like to inform your customers about your privacy policy before they send you their feedback? You can add a link below your form.
Privacy policy url

Fill in "http://closealert.com/privacy-statement/" under Privacy policy url.
Privacy policy statement

Copy/paste this text under 'Privacy policy statement' : [link]Your feedback will not be shared with 3rd parties[/link]
Click bottom right on "Save". Now it is time to test your form, click on "Preview" and a new browser tab will open.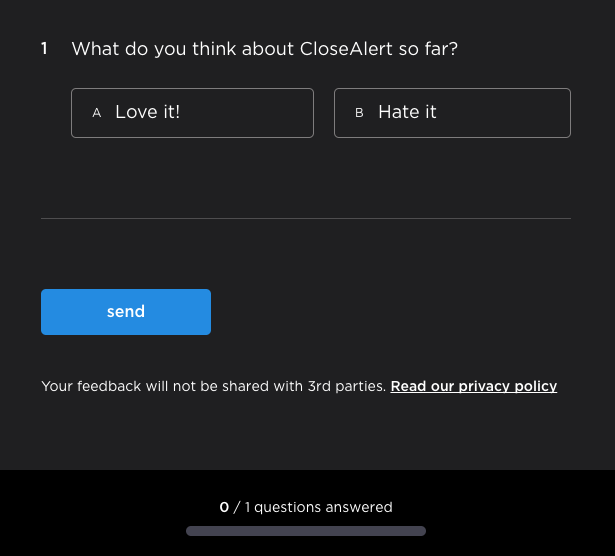 Step 4 - Implement CloseAlert in your email
Happy with your form? Click on "Implement widget" at the bottom left of your screen.
Choose your email platform from the list. If your platform is not in the list, choose "Other / manual". In this guide we'll go for this option.
Click on the blue button called "Copy HTML". This gives you a neat piece of HTML code that you can copy/paste into your email template. You then have a 'table' with your positive answer, a positive icon, a negative icon and negative answer, just as you saw while building your form.
The code is mobile-proof. Of course you can alter it to your liking and apply your own style guide for font size, color, feedback buttons, etc.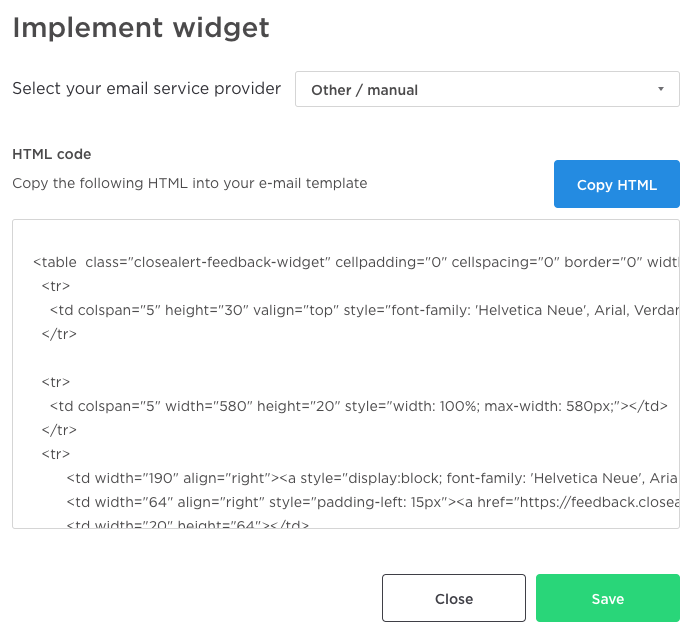 Click on "Save" and then "Close". Now go to your email platform and paste the code at the desired place in your email's source code.
Note: Did you choose "Other / manual" as email platform, just as we did in this guide? Then make sure you edit the items in the HTML code that start with "REPLACE_WITH_".
Step 5 - Give feedback and see the result
Send yourself a test email after you've saved your message in your email program. Give yourself some positive feedback, you've worked hard for it. Then go back to CloseAlert and click on 'Results' in the menu. Find your test campaign and check your feedback.
Happy testing!
Do you want to see the live version of the form we created in this guide? Test it here:
Written by Ruben Zantingh-Bozic
Ruben is advisor, marketer and blogger at CloseAlert. He helps CloseAlert get to the next level and keeps an eye on developments in email marketing.

Get in touch with Ruben Zantingh-Bozic
+31 (0) 20 26 118 62
ruben@closealert.com